Campaigning from the inside
Thanks to local campaigners, Oxfordshire County Council recently abandoned their proposed £1m cuts to mental health funding. Frances, the group co-ordinator tells us how her group campaigned to oppose the cuts...and won. 
Just before Christmas, when I was thinking more about cooking turkey and travelling to Yorkshire, I got an email from a local city councillor – "you may be interested in this press release".
It said that Oxfordshire County Council was spending more money in a couple of areas. Good news! But half way down the second page I saw the bad news – proposed cuts of £1 million, plus a further cut of £600,000 to the already small mental health budget in our local area.
With the consultation closing on January 4th, we had to act fast to mobilise opposition to these potentially damaging cuts. We informed the 175 committed and engaged people in the Rethink Mental Illness Oxford Campaigners group and our three local Members of Parliament about the proposed cuts and consultation period.
Quickly, we got a response from the Socialist Health Association - "we are writing a letter protesting about the short amount of time for consultation; will you sign it on behalf of your group?" Yes! Then an email from a local small mental health charity; the Chief Exec was encouraging all other mental health charities and anyone providing mental health services to sign a letter deploring the cuts.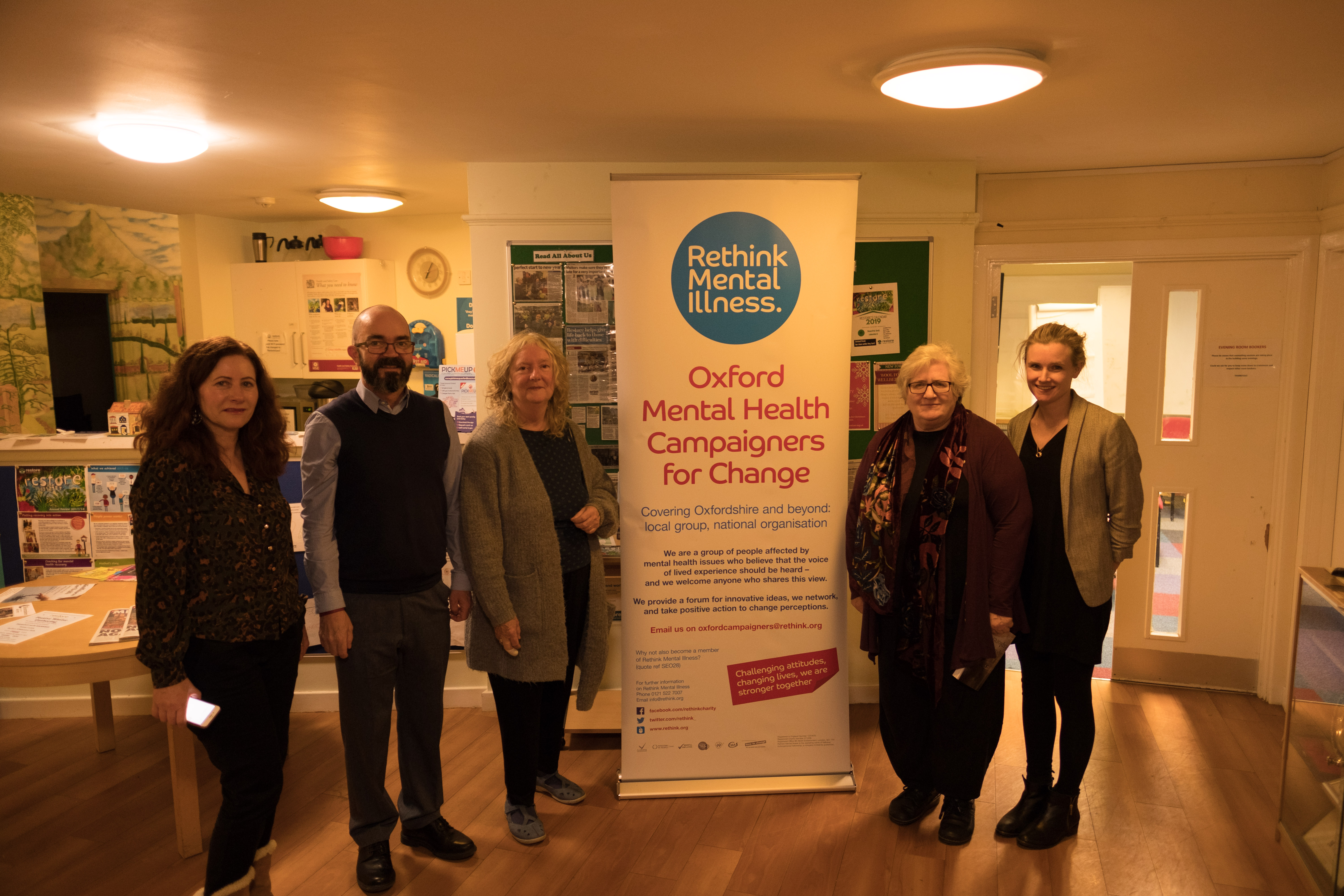 Would we sign it? Yes! MPs were mobilising and talking to the media – result! One of our regular group attendees let us know that a demonstration was planned for the nearest Sunday to the end of the consultation in central Oxford and we shared it with our contacts. Momentum was building.
We heard news from the local Labour Party that they were organising two protests outside the Oxfordshire County Council offices, including one on the day that the Council was to due vote on the cuts. Everyday, more and more people sent in their objections to the cuts. We had student contacts at the University flooding social media and attention-grabbing headlines on the local news.
Then, suddenly, there was shock news that Oxfordshire County Council was withdrawing their proposal for the £1 million cuts "due to overwhelming public pressure". Yes, we are stronger together! We had created real change. A deluge of congratulations flowed in, including people in London and Reading who had used Twitter to support us.
While we've had success, we still have the £600,000 proposed cuts to mental health social workers left to fight. Following this campaign, someone in Reading who had been to just one of our meetings on hearing voices wrote to us to say they were now a mental health activist in Reading. Good news to top good news. On to the next challenge.